What is your biggest cultural shock and realization from visiting China?
中国给你带来的最大的文化冲击和感触是什么?
Quora读者的评论:
Ranjeet Rain, Live in China. It's like my second home.
Originally Answered: What was your biggest culture shock going to China?
There are numerous things that come across as "weird" to a first time visitor in China. There are too many of those, but let me jot a few from top of my head.
最初回答的问题是:你去中国感受到的最大的文化冲击是什么?
对于第一次来中国的游客来说,有很多事情会让他们觉得"奇怪"。这样的例子太多了,我就挑一些说吧。
1.Crowds - Well, not a culture shock for those from Asia but for most Europeans the first thing that strikes them is how crowded China is. Prepare to queue nearly wherever you go. Subway, Bus-stop, even restaurants.
2.Smell - This is the craziest thing, and perhaps the most offending of them all, about China that stares you in the face. Small markets, specially the street food markets have a unfamiliar, some what choking, strong smell. This is true of all food markets, regardless of whether the market has "fish shops" or not. I guess it's due to the oil they use. Is it some kind of oil extracted from fish!?? Don't know! Fortunately, if you are going to be there for a long time, in a few weeks to a month or two your body gets used to it.
4.Oral Hygiene - Well, I am struggling to put this into words. How to say - Chinese people don't brush their teeth. At least they don't do it daily/regularly. I guess the few that brush their teeth regularly are the ones with foreign education or have lived abroad. Others simply don't understand the importance of oral hygiene in China. Till 8-10 years ago it was hard to find good quality toothpaste in China, even in western super marts such as Carrefour.
1.乌泱泱的人群——?#38405;?#20123;来自亚洲的人来说这算不上文化冲击,但对大多数?#20998;?#20154;来说,他们最先想到的就是中国太拥挤了。无论你去哪里,都要做好排队的准备。地铁,公交车站,甚至餐馆,到处都得排?#21360;?/strong>
2.气味——这是中国最糟糕的事情,也许是所有事情中最令人反感的了。小菜市场,特别是街头小吃摊,有一种?#21543;?#30340;、呛人的、浓烈的气味。不管市场上有没有"鱼店"。所有的食品市场都是如此。我想这是因为他们使用的油的问题。这种油是从鱼身上提取的油吗?不知道!幸运的是,如果你要在那里待上一?#38382;?#38388;,几周到一两个月,你的身体就会习惯。
3.口腔卫生——嗯,我很难用语言来表达。怎么说——中国人不刷牙。至少他们不经常刷牙。我想经常刷牙的人是少数受过国外教育或在国外生活过的人。其他人根本不明白口腔卫生的重要性。8-10年前,在中国还很难找到高质量的牙膏,即使在家乐福等外国超市也是如此。
5.Helpfulness - Well, I found most Chinese people to be extremely helpful. Some will run away from you if you try to approach them to ask something, but you shouldn't take that otherwise. They are running away due to shyness. The ones that are not shy and would dare to have conversation with you in broken English/Chinglish or part English part Chinese will come across as extremely helpful.
Once I was going somewhere in Shanghai. After getting down the subway I just wouldn't understand which way to go. I asked a gentleman, he tried explaining me I couldn't understand. He crossed the road with me, walked with me 50 steps when I was well on my path correctly showed me the direction. I was so pleasantly shocked with his gesture.
On another occassion I was lost trying to find an address. I asked a guy who wouldn'n know either. He turned on 3G connection on his smartphone. Opened maps, zoomed in to it, got an idea of the address then guided me correctly. I wouldn't expect so much help. It is simply remarkable.
6.Gender bias - Well, you would notice much less gender bias in China than you would expect. For instance, the "sweepers/cleaners" for washrooms can be either gender. I often noticed female cleaners doing their job dutifully inside the male washrooms even as men were standing doing their "business". No "oh could you all please back off and gimme a second to clean the space before you can go ahead and do your business?" nonsense, plain duty with diligence.
Similarly, a large number of (if not majority of) "adult toy" shops are run by girls/women.
7.They eat all of the chicken. Yes all of it. And I mean all of it. They don't even skin it. And feet! Some might find it offending to even hear, but Chinese don't even leave out their feet. Supermarkets/Fresh shops are full of "Fried Chicken Feet" (did I just invent a new product category?) that Chinese love to munch on. Well, I guess in the past there must have been an acute shortage of food in China that gave rise to such food choices!
8.Vomiting in the subway - I have come across a number of instances (too many to not notice it) of people so badly drunk, they have no idea where they are and what they are doing. Of course, it also means some of them will puke and the surrounding spaces will all at a sudden be empty in an otherwise crowded train.
译文来源:三泰虎 http://www.bnxr.icu/47639.html 译者:Joyceliu
5.乐于助人——我发现大多数中国人?#25380;?#24120;乐于助人。如果你想走近他们问一些问题,有些会从你身边跑开,但别误会。他们只是因为害羞而已。那些不害羞,并且敢于用蹩脚的英语/中式英语或半英文半中文与你交谈的人会给你极大的帮助。
有一次我要去上海的某个地方。下?#35828;?#38081;后,我不知道该走哪条路。我向一位先生打听,他试图解释给我听,但我听不懂。他和我一起过马路,跟我一起走了50步,直到把我带到对的路上。
还有一次,我在找地方的时候?#26376;?#20102;。我问了一个同样不知道的人。他打开智能?#21482;?#19978;的3G连?#21360;?#25171;开地图,放大,搞清楚地址后,跟我指了正确的方向。我没指望能得到这么多帮助。这实在是太不可?#23478;?#20102;。
6.?#21592;?#20559;见——你会发现中国的?#21592;?#20559;见比你想象的要少得多。例如,洗手间的"清洁工"?#20449;?#37117;有可能。我经常注意到女清洁工在男卫生间里尽职尽责地工作,而男人们还站着"忙活着"。
同样,许多"成人用品"店里,看店的都是女孩/妇女。
7.他们吃全鸡。是的,一整只鸡。他们甚至连皮都不剥。还有鸡爪!有些人会觉得这听起来很无礼,但中国人连鸡爪都不放过。超市/新鲜商店里到处都是中国人爱吃的"炸鸡脚"(我刚新创了一种食物吗?)嗯,我想过去中国肯定经历?#25628;?#37325;的食物短缺,才会选择吃这样的食物!
8.在地铁里呕吐——我遇到过很多次,有的人喝得酩酊大醉,根本不知道自己在哪,也不知道自己在做什么。?#27604;唬?#36825;也意味着他们中的一些人会呕吐,在拥挤的火车上,周围的空间会突然空无一人。
9.Price by weight - I was frustrated of being cheated by the Chinese first few weeks I arrived here. They would always charge me double the amount. Poor me! I won't be able to tell them anything as I could hardly say anything other than "ni hao" (hello) and "xie xie" (thank you) in Chinese. It took me a while to realize that Chinese price their stuff by "Half a Kilogram". I.e. if something has a tag of ¥5.70, and if you order 1 Kg of it, you need to pay ¥11.40 and not ¥5.70 as you may have thought. Wierd, isn't it? Hello China!
10.Discount on list - In most countries discount is expressed in percentage. As in 15% off, 20% off, 50% off and so on. In China, they would mention what multiplier you need to pay. I.e. if something is available for a 25% discount, the discount indicator will read .75. Chinese like maths, don't they!
11.Age of a baby - So you are going to China with a 4 year old? Be ready for a surprise. As soon as your baby enters China, his/her age become 5 :) Well, that's because, in China, babies are supposed to be already one year old when they are born. So a 3 day young infant is not a 3-day old baby, it's a one year 3 days old baby. Genius! :)
12.There is no ground floor - Well, you would be totally baffled to know that there is no "ground floor" in any building anywhere in China. So where did they all go? Don't worry, they are all there. Just that the Chinese don't call them the ground floor. They call it, well, hold your breath, the "first floor".
Oh yeah, whatever it may mean, the "ground floor" is called the "first floor" in China.
So, now you many wanna ask - "what the hell do they call the 'first floor' then?". Well, simple - they call it the "second floor" ;)
13.Fakes/Knock offs - Well, perhaps this is no more a shock by now (less or more the entire world knows by now). But you can buy a cheaper knock off of almost anything expensive. From watches to bags to perfume. Chinese are experts at manufacturing "Hi copy" or "First copy" products. Rolex, Cartier, Tag Heuer, LV, Gucci, Versace, Emporio Armani, Hugo Boss, Rayban, name the brand and you can find a first copy at a fraction of the price of the original.
9.按重量计价——我刚到这里几周的时候,总是觉得很沮丧,被中国人欺骗。他们总是要我付双倍的钱。可是可怜的?#19968;?#26412;上只会用中文说"你好"和"谢谢",其他啥也说不出。过了一?#38382;?#38388;我?#27431;?#29616;,中国人对商品的定价是以"半公斤"为单位。也就是说,如果某件商品的标签是5.7元,而你订购了1公斤,你需要支付11.40元,而不是你所想的5.7元。很奇怪吧?你好,中国!
10.清单上的折扣——在大多数国家,折扣以百分比表?#23613;?#27604;如15%,20%,50%等?#21462;?#22312;中国,他们会说你要付的是价格乘以多少乘数。也就是说,如果某件商品的折扣是25%,就要乘以0.75。中国人?#19981;?#25968;学,不是吗?
11.婴儿的年龄——所以你要和4岁的孩子一起去中国?准备好迎接惊喜吧。你的孩子只要一进入中国,他/她的年龄就变成了5岁。嗯,那是因为,在中国,婴儿出生的时候就已经算一岁了。所以一个3天大的婴儿并不是3天大,而是1岁3天大。
12.没有底层——嗯,如果你知道在中国任何地方的任何建筑都没有"底层",你会非常困惑的。那么底层去了哪里?别担心,底层一直在那儿。只是中国人不管他们叫做底层。他们把它叫做,屏住呼吸,"一楼"。
哦,对了,不管它是什么意思,在中国"底层"就是被称为"一楼"。
所以,现在你可能会问:"那他们到底把一楼叫什么?"嗯,很简单——他们管它叫"二楼"。
13.赝品/仿冒品——好吧,也许目前为止这已经不再是令人震惊的事了(到目前为止,全世界或多或少都知道了)。但是你可?#26376;?#21040;几乎一切奢侈品的便宜仿制品。从手表到包包再到香水。中国人擅长制造仿造商品。劳力士、卡地亚、豪雅表、LV、古驰、范思哲、安普里奥•阿玛尼、雨果•博斯、?#30528;螅?#21482;要你说出品牌的名称,你就能以原价几分之一的价格买到高仿品。
14.Domestic flights - Well, let's just say that they run late. And the airlines don't even inform you in advance about it so you can plan on utilizing your time better. They wouldn't even say "4 hours delay" at once. They will shift the departure time in 30 minute blocks. When the boarding time nears, you wind up and ready yourself to queue (yes there is a queue, long ones, for everything in China) they will announce the flight is being pushed back by half an hour (again). Now you would rush back to find yourself a seat (again). Well, the wise ones don't get up in the first place until the boarding has actually begun :)
15.Public bath/spas - Well, this is incredibly funny. But if you go to a spa or a swimming pool in China you are very highly likely to notice this phenomena that you wouldn't anywhere else, specially if the pool is small and cold.
When you pass by someone you will suddenly feel warm current. Jesus! People peeing in the pool? Like seriously!? I have joked about this with my Chinese friends and they all admit having experience this. Well, at least the ones I know, or I go along with, they now understand the need to empty themselves before stepping in to the pool
And I swear to God I have seen poop floating in the small (2x2 meter) pool in a small time spa. Well… …
16.Well, gotta go. Will add more later!
14.国内航班——好吧,我们就说他们晚点的事吧。航空公司不会提前通知你,让你可以更好地安排时间。他们甚至不会说"延迟4小时"。他们会在起飞前30分钟内才通知?#28216;蟆?#31561;?#33108;?#26102;间临近了,你排好了队时(是的,在中国不管干嘛都得排长长的队),他们会(再次)宣?#24049;?#29677;被推迟了半个小时。现在你得(再)赶紧找个座位。嗯,聪明的人在真正开始?#33108;?#20043;前是不会起身的。
15.公共浴室/温泉浴场——嗯,这非常有趣。但如果你去中国的温泉或游泳池,你很可能会注意到这种现象,而在其他任何地方你都不会注意到,尤其是如果游泳池很小很冷的话。
当你经过某人的时候,你会突然感到一股暖流。神啊!人们在游泳池里小便吗?你没开玩笑吧?我和我的中国朋友开玩笑说过这件事,他们都承认有过这样的经历。好吧,至少我?#40092;?#30340;人,或者和我一起去的人,他们现在明白,在下泳池之前必须先去趟卫生间。
我向上帝发誓,我曾在一个小水疗中心的小游泳池(2x2米)里看到过漂浮着的便便。呃……
16.好了,我得走了。以后再来补充吧!
Lance C. Anderson, American living in China.
I threw my headphones in today while doing homework and I couldn't stop smiling. I prepared for so many things for when I came over but I never realized how much I value my time spent in my car for privacy in America. I used to get 30 minutes a day I could either scream to my music at the top of my lungs or just sit in silence as I pass cars on the highway. Those days are behind me. I no longer get 100 cubic feet of space and air all to myself during my daily commute to/from work. That's honestly the thing I miss the most about America, the solitude I always took for granted..
A distant second largest realization is how bad I am at telling apart Chinese people. I mean that in the least offensive way possible, but I'm bad enough with faces at it is. I swear I've seen the same lady in 5 different spots however the city has 25 million people — that just doesn't happen.
See below for more info, but thanks for reading!
This question asks about my biggest realization so I've responded to that first.
I have already written extensively about my biggest culture shocks here, so I won't bother my followers with that, although I'll include it at the end of the answer and feel free to skip over it because there's a lot of info there.
I moved to China last month so I'm still knee-deep in the culture shock process.
These are the most difficult things to get used to:
1.Everything involving going to the bathroom.
我在做作?#25285;?#31505;到把耳机都给扔了。来中国之前,我做了很多准备,但是我从来没有意识到在美国,为了私密性,?#19968;?#22312;车上的时间有多宝贵。我以前每天会花30分钟的时间,在车里跟着音乐大声尖叫,或者静静地坐在车里,在高速公路上超车。那些日子已经一去不复返了。在我每天上下班的路上,我不再独自享有100立方英尺的空间和空气。老实说,我认为理所?#27604;?#30340;孤独感,正是美国最令我想念的地方。
第二大?#40092;?#26159;,我很不善于分辨中国人。我无意冒?#31119;?#20294;我有点脸盲。我发誓我在5个不同的地方见过同一位女士,但是这个城市有2500万人口——这种巧合不可能发生。
更多信息请看下面,但感谢您的阅读!
这个问题问的是我最大的领悟,所以我先回答了这个问题。
我已经写了很多关于我在中国遇到过的最大的文化冲击的文章。
我上个月搬到中国,所以?#19968;股?#28145;处于文化冲击中。
以下是最难适应的事情:
1.跟卫生间有关的一?#23567;?/strong>
1.The first thing you notice are the toilets, which are not western toilets but squatty potties.
A. Okay fine, you get used to that. After dropping a massive dump, you need to use toilet paper. Shit, this is when you realize that public restrooms don't carry toilet paper for you to use, you should've brought your own. Now you have to beg a stranger to give you some tissue to use.
B. Okay, now that you've got that whole debacle out of the way, you also have to get accustomed to not flushing your toilet paper. That's right, there's a little receptacle next to the toilet for you to put your used toilet paper in.
Prices. I eat out nearly every day and rarely spend more than $3. It's amazing. Other than at sit down restaurants, you only spend more than $4 on a meal if you get American fast food E.g. KFC, Burger King, etc.
The smoking! Smoking is ubiquitous. Everywhere you go there are people smoking.
It's ironic after the last one, but air masks. The smog is pretty bad on some days in Shanghai, so some people try hard to wreck their lungs (see point 3) while some are extremely concerned about preserving theirs.
The efficiency. There are 25 million people who live in Shanghai alone, so thank goodness the government has done a good job with public transportation. The city is larger than the size of the state of Delaware in area but it rarely costs more than 1 USD to travel anywhere on the subway (see point 2). However, the metro can get pretty crazy at times.
1.你首先注意到的是坐便器,不是西式马桶,而是蹲式厕所。
A. 好吧没事,你会习惯的。如厕完后,你需要卫生纸。但是,你会发现公共厕所不提供厕纸,你得自己带。现在你不得不乞求一个?#21543;?#20154;给你一点纸。
B. 好,现在你已经解决了这个问题,你还必须习惯不把厕纸丢进厕所。没错,马桶?#21592;?#26377;个小垃圾桶,用来装用过的卫生纸。
2. 价格。我几乎每天都出去吃饭,基本上都在3美元?#38405;凇?#36825;很惊人。如果你吃的是美国快餐,比如肯德基、汉堡王等,才会超过4美元。
3. 吸烟问题!抽烟的人无处不在。无论你到哪里,都有人抽烟。
4. 这一点接在上一点之后,很讽刺,那就是防毒面具。在上海,雾霾有时相当严重,所以有些人努力损害他们的肺(见第3点),而有些人非常费心地保护他们的肺。
5. 效率。仅上海就有2500万人口,谢天谢地,政府在公共交通方面做得很好。这座城市的面积比特拉华州还大,但乘坐地铁去任何地方的花费很少超过1美元(见第2点)。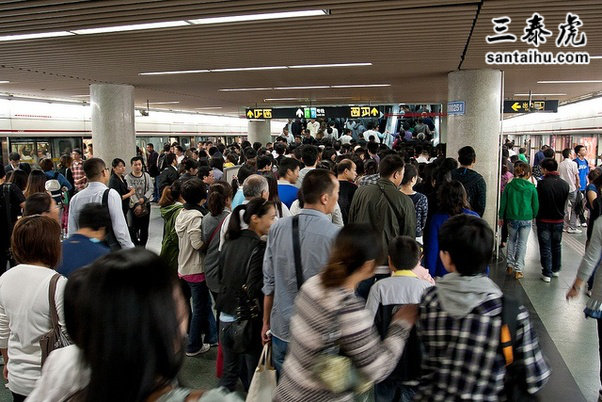 The sheer size of China. I'm from America, so I should be accustomed to it, but I'm taking a trip to do some hiking later and it's a 24 hour train ride! It's ridiculous. And want to know the crazy part? The standing tickets are sold out. That's because it is the Chinese New Year and it's the biggest mass migration event in history, every single year, because people all go home to their families.
On a related note again to the pricing, I'm traveling over 3000 KM for the trip and staying for 3 nights in hostels. Booking everything cost me less than $45. Wow!
Spitting! A lot of guys just hock up a loogie and spit wherever they are, even on the metro! That's probably the biggest culture shock.
Edit:
Being interesting. People will literally line up to take pictures with me because I look so different from all of them! It's much more common in rural areas where they've never seen an American in their life. They'll even walk up and immediately start touching your hair to see what it feels like. It was a huge shock the first time!
So far those are the biggest culture shocks I've had from visiting China and I'm sure there will be plenty more to come.
中国的国土之辽阔。我是美国人,所以我应该习惯的,但是我要去?#36466;悖?#35201;坐上24小时的火车!简直要疯了。想知道最可怕的是什么吗?站票卖完了。因为这是中国的新年,每年这个时候都会发生人类历史上最大规模的迁徙活动,因为人们都要赶回家与家人团聚。
关于出行的花费,我旅行了3000多公里,在旅馆住了3晚。这一切才花了我不到45美元。哇!
随地吐?#25285;?#24456;多人清嗓?#21360;?#38543;地吐?#25285;?#23601;连在地铁上也一样!这可能是最大的文化冲击。
编辑:
引发关注。人们真的会排队和我拍照,因为我看起来和他们太不一样了!这在?#28216;?#35265;过美国人的农村地区更为常见。他们甚至会走上前,直接上手摸你的头发,试试手感。第一次遇到时,对我是个极其巨大的冲击!
到目前为止,这些都是我访问中国期间经历过的最大的文化冲击,我相信未来还会有更多的冲击。
Henry Vaughan, Been to more than a dozen countries on three continents
Apartment buildings.
Weird, right?
I kinda knew a lot about China before I arrived. I understood the culture and the language pretty well, and I've spent enough time in Chinatown to be prepared for most of the smells. I knew that the cities were going to be massive and that the pollution would be bad.
The only thing that I had never expected was this:
公寓大楼。
很奇怪,对吧?
在我来之前,我对中国有一些了解。我对中国的文化和语言非常了解,我在唐人街待了很长时间。我知道城市很大,污染很严重。
我唯一没有想到的是: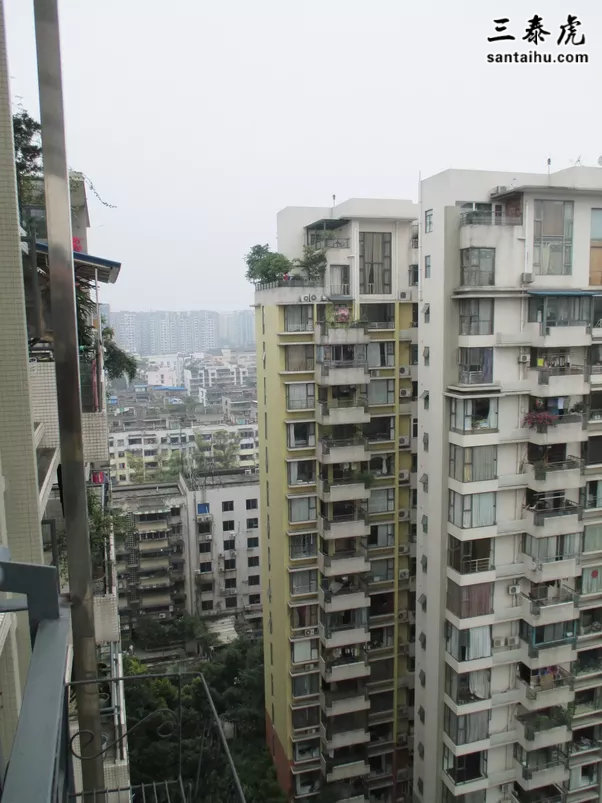 Wait a second, you're telling me that pretty much everyone in the entire city lives in some kind of apartment high-rise?
.. everyone??
I live in the suburbs of Houston, the fourth-largest city in the United States. Yet, we have so much open space that there was actually a political initiative to block building apartment complexes in the suburbs! You see, most people live in houses kinda like this:
等等,你是说几乎整个城市的人都住在高层公寓里?
. .每个人吗? ?
我住在美国第四大城市休斯顿的郊区。我们有非常多的?#30701;?#24320;放空间,实际上当地有一个政治倡议,禁止在郊区建设公寓楼!你看,大多数人住在这样的洋房里: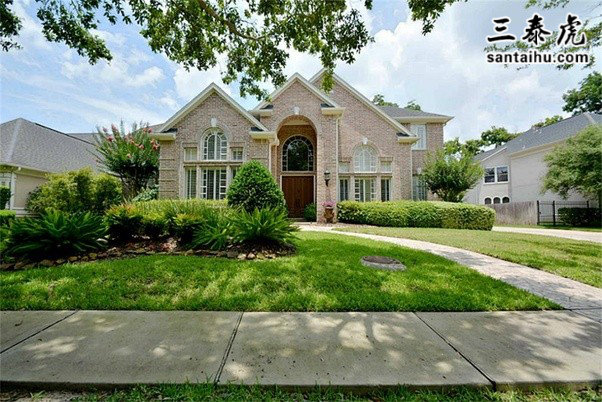 Notice the big, green front lawns, the backyard fences, and sidewalks with mailboxes. This is what I'm used to in Houston. Yet, in Chengdu, I never saw a single standalone home, only countless apartment high-rises. Of course, it makes perfect sense for China to be that way, given their incredible size; I just wasn't at all expecting it.
Needless to say, it felt sweet to be back in the Big Sky country.
注意房前的大草?#28023;?#21518;院的篱笆,和带有邮箱的人行道。我在休斯敦已经习惯了这种洋房。但在成都,我?#28216;?#35265;过独立洋房,只有数不清的高层公寓。?#27604;唬?#32771;虑到中国令人难以置信的人口规模,中国这样做完全有道理;我只是压根也没想到过。
不用说,我回到这片广袤无垠的土地上的感觉有多亲切了。
Jordana Manchester, Adventure Travel Specialist| Writer| Canadian| 70+ Countries
My first introduction to mainland China (Beijing) was tough - It almost broke me. I had carefully planned a trip to the Great Wall for the next day, but after traveling through Sumatra for some time, I needed to get my Nikon cleaned. I dropped my camera off at a Nikon store, took my slip and thought nothing of it. I returned at the end of the day retrieve it, and the salesperson took one look at me, twisted my lens so violently, it broke, and smiled. He held out his hand and said I needed to pay triple if I wanted my camera back in one piece. After a huge argument in broken English/Mandarin, I went out to the street to find some tourist police. I walked into a small store and asked if they could tell me where the police station was, and the shopkeeper came around the counter, shoved me out of his store and spat all over my jacket. It was horrifying.
I eventually retrieved my lens (never repaired) and spent the next 5 days wondering why the hell I'd ever bought a ticket to China. I was treated like zoo animal. Poked, my hair pulled, people photographing and videotaping me like I was some sort of spectacle. Just when I was ready to retreat, I hopped a train south, into the rural countryside, and that's when I fell head over heels with the rest of China. My advice? Get the hell out of the big cities and run to the countryside.
The locals were always curious about my skin tone, they would touch my hair, but it wasn't in a menacing way. I was invited into strangers homes for dinner, I was given gifts, and most importantly, I was treated like a human being.
I would return to China in a New York minute. I just don't think I was prepared for it, and after having learned (and experienced) the history between the Chinese and Africans, I understand the situation more now.
Additionally, the other things that shocked me was the treatment of animals. In many places they were abused, abandoned, tortured, it was too much for a bleeding heart North American like myself. I also found the excessive spitting sort of shocking. They were spitting into the open excavations at the Terra Cotta Warriors in Xian!
我第一次来到中国大陆(?#26412;?的经历很难熬——几乎让人崩溃。我仔细计划了第二天的长城之旅,但在苏门答腊岛旅行了一?#38382;?#38388;后,我需要把尼康相机洗干净。我把相机放在尼康的一家商店里,拿着我的收条,什么也没想。晚上我去取相机,售货员看了我一眼,狠狠地拧了拧我的镜片,镜片坏了,然后他笑了。他伸出手说,如果我想要相机完好无损,必须付三倍的价钱。在用蹩脚的英语/普通话大吵一架之后,我走到街上去找巡警。我走进一家小商店,问他们能不能告诉我警察局在哪里,店主从柜台后面绕出来,把我推出了他的商店,朝我的夹克吐口水。太可怕了。
我最终找回了我的镜头(?#28216;?#20462;理过),在接下来的5天里,我一直在思考我到底为了什么要买来中国的机票。我被当作动物园里的动物一样。有人戳我,扯我的头发,有人对着我拍照、录像,就好像我是某种了不得的奇观。就在我准备撤退的时候,我跳上了一辆南行的火车,来到了乡下,从那时起我深深地爱上了中国的其他地方。想听我的建议?走出大城市,去乡村地区吧。
当地人总是对我的肤色很好奇,摸我的头发,但并不可怕。我被邀请到?#21543;?#20154;家里吃饭,他们送给我礼物,最重要的是,他们像?#28304;?#26222;通人一样?#28304;?#25105;。
我马上就要回到中国了。但我觉得?#19968;?#27809;有准备好,在学习(和经历)了中国和非洲之间的历?#20998;?#21518;,我现在更了解情况了。
此外,另一件让我震惊的事情是他们?#28304;?#21160;物的方式。在许多地方,动物被虐待,?#29260;?#25240;磨,这对一个像我这样来?#21592;?#32654;的人来说太残酷了。另外随地吐痰的现象令人震惊。他们还向西安兵马俑的?#30701;?#25366;掘现场吐口水!